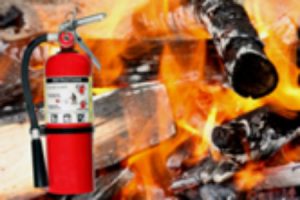 Use of fire extinguishers can come with many risks, so workers must be trained on how to safely use them to put out a fire.
The most important thing in to do during a fire situation is to get yourself to safety and call the proper authorities to combat the fire.
Safety Rules for Using Fire Extinguishers:
Fighting a fire can be extremely dangerous. Above all else, you should never put your safety at risk to attempt to use a fire extinguisher. The following rules must be followed should you need to use a fire extinguisher:
The fire must be small and in its early stages.

A fire extinguisher will not be able to put out a large blaze.

You must have access to a non-threatened escape route. If the fire gets out of hand, you will need a way to escape. Do not attempt to fight a fire unless you have a safe way out. Be sure to identify a safe escape route before you even reach for an extinguisher!
Only employees who have been trained on the use of fire extinguishers should attempt to use one.
Ensure you have the right type of fire extinguisher for the specific type of fire you are trying to fight. Using the wrong fire extinguisher can make the fire much worse!
Don't try to be a hero! There is no point in risking your life to save a building that can easily be rebuilt. Be mindful of your own safety at all times and be prepared to use your escape route.
Inspect all of your fire extinguishers at least monthly.
FIRE PREVENTION IS OUR INTENTION!!
Download flyer: STOTW_705_Using Portable Fire Extinguishers

Download Spanish flyer: STOTW_705_Using Portable Fire Extinguishers_esp