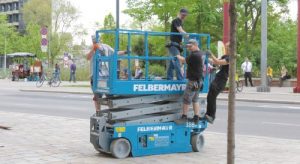 When used according to the manufacturer's instructions, scissor lifts provide a safe and reliable platform for workers to perform job tasks.
When not used properly, scissor lifts can present a serious hazard to workers.
How to Safely Use Scissor Lifts:
Employers need to assess the worksite to
identify all possible hazards in order to select the appropriate equipment for the task.
Employers who use scissor lifts need to evaluate and implement effective controls that address fall protection, stabilization, and positioning.
Only trained workers should be allowed to use scissor lifts and employers should make sure that those workers show that they can use a scissor lift properly.
Safe scissor lift use includes properly maintaining the equipment following the manufacturer's instructions, providing training and needed personal protective equipment (PPE) to workers, and implementing safe work practices.
Maintaining Scissor Lifts:
Employers must regularly maintain scissor lifts to ensure that they are safe to use (e.g., prevent the lifting mechanism from collapsing).
Manufacturer's maintenance and inspection instructions will generally include how to: Test and inspect controls and components before each use;
Ensure that guardrail systems are in good working condition; and
Verify that brakes once set will hold the scissor lift in position.
USING LIFTS INCAUTIOUSLY…COULD RESULT IN INJURY!!
Download flyer: STOTW_631_Working Safely with Scissor Lifts

Download Spanish flyer: STOTW_631_Working Safely with Scissor Lifts_esp