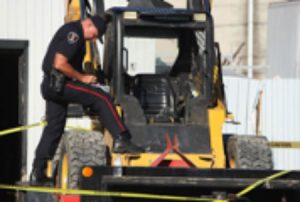 Skid steer loaders are small, powerful machines that may be operated safely by following the general safety requirements for heavy equipment and some rules specific to skid steer loader operations
Skid steers are incredibly versatile and highly maneuverable, but they can also be very dangerous. Proper precautions must be taken to prevent a serious injury or a fatality.
Know the Safe Operating Procedures:
Adjust your speed to suit the working conditions and terrain. Avoid sudden stops, starts, and turns.
Try to go around obstacles, rather than over or through them.
Keep the bucket as low as possible when traveling or turning. A skid steer becomes less stable the higher the loader arms are raised.
Never use a skid steer as a work platform or for carrying workers—it's against the law.
Never try to operate the steering levers or any other hydraulic controls while standing outside the cab. Because of the hydrostatic drive, the skid steer will respond instantly when the levers are engaged.
Make sure that the attachment locking devices are engaged, even if you are switching attachments for only a few minutes. If an attachment is not locked, it could break free and roll back down the loader arms.
Use hearing protection when operating a skid steer.
Remember:
Operators must thoroughly familiarize themselves with the machine they are to operate. Always test run an unfamiliar machine in an open, unpopulated area before attempting to perform work, especially around ground personnel.
REMEMBER THAT UNPREPARED…MEANS UNSAFE!!
Download flyer: STOTW_738_Skid-Steer Loader Safety

Download Spanish flyer: STOTW_738_Skid-Steer Loader Safety_esp