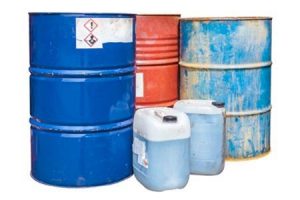 The Hazard Communication Standard requires employers to make a chemical inventory list of the hazardous chemicals present in their workplace. The chemicals on these lists are identified with markers to easily find the corresponding safety data sheet (SDS).
Additional Benefits Include:
Employees can find information on chemical hazards, properties, first aid, personal protective equipment (PPE), emergency procedures, and disposal methods.
Emergency responders can quickly access chemical safety and hazard information.
Regulatory chemical and waste reporting can be easily done and tracked.
For an Effective Chemical Inventory:
Keep the inventory list with the corresponding SDS.
Update the list and the SDS binder when new chemicals arrive in the workplace.
Note the locations of the chemicals.
Note the types and sizes of chemical containers.
Tally the total amounts of chemicals stored in your workplace.
Additional information and efforts spent on your chemical inventory can help optimize your hazard communication plan and chemical safety procedures.
WHEN PUTTING AWAY A CHEMICAL SHIPMENT…REMEMBER PERSONAL PROTECTIVE EUIPMENT!
Download flyer: STOTW_948-ChemicalInventory

Download Spanish flyer: STOTW_948-ChemicalInventory_esp