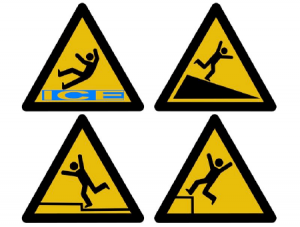 Estimates put the number of disabling injuries resulting from falls at over 30,000 per year. The number of deaths is close to 12,000 a year. About one in 10 of these deaths happen in the workplace.
Slips, trips, and falls cause numerous injuries every day. But they are among the easiest hazards to correct. Take the time to look around your worksite for these hazards and work to prevent them.
Preventing Slips, Trips and Falls:
Report any lighting problems. This goes for inside and outside. Falls can happen just as easily in the parking lot as on the shop floor. We can prevent at least some of them by making sure we can all see where we're going.
Report any hazardous floors. If there are loose items, torn carpets, broken or loose floor boards, or bumps or cracks in the concrete surfaces, let the appropriate person know.
If you are involved in any clean-up operations, please, mark off slippery floors.
If you notice a spill or greasy surface, clean it up or report it to someone who can clean it.
Never ever run cords, cables, or hoses across high-traffic areas. If it can't be avoided, make sure the area is marked off.
Report any special hazards that may be lurking in stairwells or in other areas of the facility. These include loose or missing ladder rungs or dangerous areas on the loading dock.
Preventing slips and falls has to be a team effort. Walking around a spill or stepping over an open drawer might keep you safe, but what about the next person who walks by?
A SPILL…A SLIP…A HOSPITAL TRIP!
Download flyer:  STOTW_602_Slips, Trips, and Falls

Download Spanish flyer: STOTW_602_Slips, Trips, and Falls_esp