Preventing Backovers
A backover incident occurs when a backing vehicle strikes a worker who is standing, walking, or kneeling behind the vehicle. According to the Bureau of Labor Statistics, over 70 workers died from backover incidents in 2016.
These incidents can be prevented.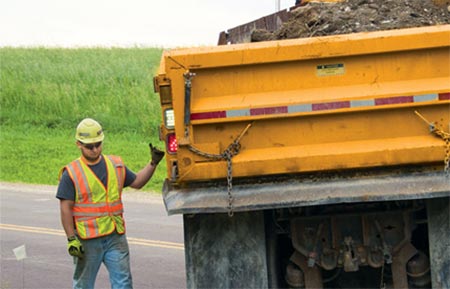 Standard operating procedures:
Develop, implement, and enforce standard operating procedures that address worker safety and minimize work to be performed near vehicles and equipment.
To help prevent backover injuries and deaths, NIOSH recommends a number of standard operating procedures:
Create and enforce an operating procedure that addresses how to work safely and lists best practices to follow when working near vehicles and other equipment.

Establish safety procedures for working at night with backing equipment. Ensure high-visibility apparel is worn.

Take precautions. Use equipment that creates minimal blind spots or has proximity-warning devices.

Before work begins, design the worksites to minimize or eliminate the need for backing vehicles and equipment.

Have a competent person to supervise worksites involving backing vehicles and equipment.

o 'Competent person' is defined by OSHA as one who is capable of identifying existing and predictable hazards in the surroundings or working conditions which are unsanitary, hazardous, or dangerous to employees, and who has the authorization to take prompt corrective measures to eliminate them.

The best safety device is your brain…Use it!! 
Download flyer: STOTW_535_Preventing Backovers.pdf (860.07 kb)
Download Spanish flyer: STOTW_535_Preventing Backovers_esp.pdf (860.67 kb)