Near Miss Incidents
Often unsafe acts or unsafe conditions have several misfires and the result is a near miss accident or incident. The only difference between a near miss and an accident is luck.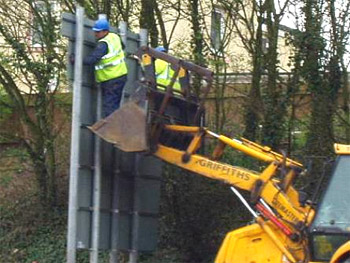 No matter how trivial they are, near miss incidents should be reported as soon as possible to a supervisor just as you would report an accident.
The Same Things That Cause Accidents Cause Near Misses:
Unsafe acts, such as improper lifting; walking under an overhead load; cutting, grinding, or chipping without safety glasses; not using proper Personal Protective Equipment, etc.;

Unsafe conditions, such as poorly maintained equipment, oil or grease on floors, welding leads that have been laid in walkways, trash and boxes that have been left in hallways, etc.;

Hurrying and taking risks to get a project done faster or to wrap up a job at quitting time; and

Distractions or not concentrating on the task that is being performed.
Report Near Misses Before They Become Accidents:
Once a near miss occurs, report it immediately to the nearest foreman or supervisor. The potential for such incidents exists all over the workplace, so all employees—not just supervisors– must help identify them.

If the near miss is a result of an unsafe condition, don't continue to work under that condition. Wait until the problem has been corrected and your supervisor gives the okay to proceed.

If the incident is a result of unsafe acts, be certain that everyone involved has been alerted to their actions before they continue with the job.

Accident prevention starts from near miss prevention!!
Download flyer: STOTW_45_Near Miss Incidents.pdf (110.90 kb)