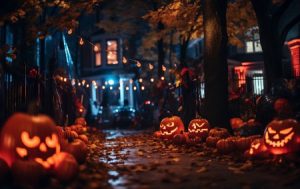 October is a fun time to enjoy the beginning of Autumn, especially Halloween. The subject of safety doesn't just stop after considering the issues pertaining Halloween candy. Let's consider a few other interesting things that parents should consider.
Trick or Treating Hazards
When you leave the house to go trick-or-treating with friends or family, remember the following:
Arm your home alarm system and lock the doors, protecting your home while you're out.
Check the batteries in your smoke detectors and test them before you light any candles.
Turn on lights, so visitors know you're home and accepting guests (or turn them off if you aren't or when you run out of candy).
Prepare your entrance so it's well illuminated, so people can see the pathway to your door.
Stay in neighborhoods that are familiar.
Use the buddy system. Take the night off and always stay with your kids, especially if they are age 12 or under.
Begin early and get home early. Remember adult Halloween parties probably have alcohol consumption. Streets could be more dangerous the later it gets.
Check kids' shoelaces are tied. Don't run, walk. Avoid going between houses.
Cross at properly marked corners or crosswalks, looking both directions before crossing.
Stay on sidewalks and on the same side of the street to avoiding zigzagging back and forth.
Approach only homes with porch lights on.
Inspect the bag, buckets, and their contents for choking hazards and opened or non-packaged candy.
HALLOWEEN DOES NOT HAVE TO BE SCARY!
Download flyer:  STOTW_1043_HalloweenSafety

Download Spanish flyer: STOTW_1043_HalloweenSafety_esp