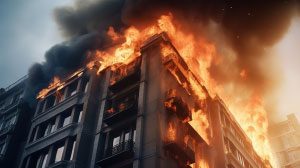 October is traditionally "Fire Prevention Month." Since 1922 the National Fire Protection Association (NFPA) has been instrumental in helping with this effort by naming the second week of October as "Fire Prevention Week" to recognize the horrific Great Chicago Fire of 1871.
The goals of this commemorative event have been to raise fire safety awareness and help protect homes and families from the potential of a terrible fire by encouraging each family to take effective precautions against fire.
Be Proactive and Install Reliable Protection to Prevent Incidents.
It is important to install reliable fire protection equipment and be proactive in keeping your loved ones as safe as possible from a fire or a carbon monoxide emergency.
Install functioning smoke and carbon monoxide detectors throughout your home as a first line of early defense;
Install Smoke and CO alarms on every level of your home, including the basement, as well as inside and outside each bedroom for whole home protection;
Maintain alarms by testing them regularly, changing the batteries every 6 months and replacing alarms at least every 10 years;
Provide fire extinguishers to help stop small fires from causing more damage and keep them easily accessible on every level of the home, especially in areas like the kitchen and garage; and
Ensure everyone knows how to operate a fire extinguisher before needing to use one.
DO YOU KNOW HOW TO PROTECT YOUR HOME AND FAMILY?
Download flyer: STOTW_1042_FirePreventionMonth

Download Spanish flyer: STOTW_1042_FirePreventionMonth_esp