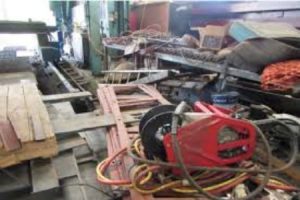 To some people, the word 'housekeeping' calls to mind cleaning floors and surfaces, removing dust, and organizing clutter.
In the workplace, 'good housekeeping' is the term used for keeping the worksite clean, neat, and free of hazards that can cause injury.
Never leave trash, garbage, or debris haphazardly around your work area. If garbage, trash, and debris must accumulate, designate a predetermined disposal area and dispose of all trash, garbage, and hazards in the designated disposal area;
Clean up any spills or leaks immediately to eliminate any hazard of slip or fall injuries;
Keep cords or trip hazards out of aisles or walkways;
Dispose of any unusable parts or material that may accumulate in you work area;
Remove boxes and other hazards from aisles, walkways, and stairways. Never lock or block exits;
Watch out for accumulation of fire hazards such as greasy rags, chemicals, and electrical hazards;
Store and dispose of flammables and hazardous chemicals properly;
Never leave hazards exposed. If necessary, provide barriers, signs, and warnings;
Ensure that all machine and equipment guards are in place and secure;
Keep toolboxes and tool cribs neat, clean, and orderly;
Keep storage areas clean and organized;
Never leave sharp tools unattended or sharp edges exposed;
Immediately clean up any glass, nails, or other laceration/puncture hazards; and
Guard floor holes by a cover, grating, guardrail, or equivalent on all sides except at the entrance tostairways or ladders.
ASHES TO ASHES, DUST TO DUST…A CLEAN WORKPLACE IS A MUST!!
Download flyer: STOTW_641_A Clean Worksite is a Safer Worksite

Download Spanish flyer: STOTW_641_A Clean Worksite is a Safer Worksite_esp