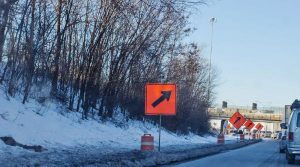 The leading cause of death during winter storms is transportation accidents. Many accidents could be avoided if drivers took time to learn and practice these tips for driving safely during snowy and icy conditions.
Winter Driving Tips:
Driving in the snow and ice is one of the most dangerous activities you can do on the road. Traction is at a premium and you can easily lose control of your vehicle.
Here are some tips you should remember for driving safely in winter:
Always use your seatbelt.
Turn on your headlights during adverse weather conditions. Overcast skies and falling snow limit visibility. It is important to see and be seen.
Like all the signs say, bridges and overpasses freeze before the roadway. Use extra caution on these.
Remember that driving in winter weather conditions causes physical and mental fatigue and reduces reaction times.

Get plenty of rest and adequate nutrition.
Don't drive while you're sleepy or on medication that causes drowsiness.

Prepare your vehicle well ahead of time. Check fluid levels, tire pressure, lights, and the battery. Have a mechanic give your vehicle a winter check-up and make any necessary repairs.
Ice and Snow…Take it Slow!!
Download flyer: STOTW_549_Winter Driving

Download Spanish flyer: STOTW_549_Winter Driving_esp