Using Scaffolding Safely
Every year nearly 100 fatalities and 10,000 injuries occur on scaffolding across the country, despite numerous safety regulations aimed to prevent such incidents. The good news is that almost all scaffold accidents can be prevented by proper training.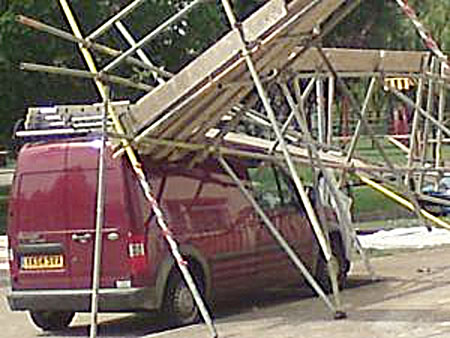 Scaffold hazards:
Falls from elevation due to lack of fall protection;

Collapse of the scaffold caused by instability or overloading;

Being struck by falling tools, work materials, or debris; and
• Electrocution, principally due to proximity of the scaffold to overhead power lines.
General rules for scaffolding:
All employees that access scaffolding must receive training.

A competent person shall be clearly identified for all scaffolding work.

Guardrails & toeboards shall be installed on all open sides/ends of scaffolding platforms 6 feet or more above ground or floor level.

o Fall protection is require data 10' level above slower level.

A hard hat must be worn at all times while working on or near scaffolding.

Employees shall not climb cross braces or end frames, unless end frames are designed to be climbed.

o When scaffold platforms are more than 2 feet above or below a point of access, an access ladder, stair tower, or equivalent safe access shall be provided for all scaffolding;

Do not use a ladder or other device on scaffolding platforms to increase height or reach.

Never use scaffolding until it is inspected and signed off by a competent person.

Don't Fall Down On the Job…Know How to Use Scaffolds Safely!! 
Download flyer: STOTW_343_UsingScaffoldingSafely.pdf (480.82 kb)
Download Spanish flyer: STOTW_343_UsingScaffoldingSafely_esp.pdf (481.06 kb)