Using a Ladder Safely
There is absolutely no reason for anybody to get hurt, disabled, or killed while using a ladder. Yet it happens every single day.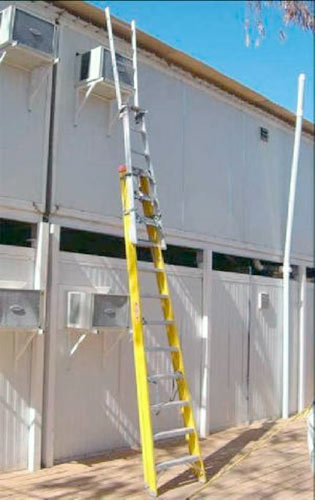 Virtually every single ladder accident could and should have been prevented. It only takes a little bit of common sense about ladder safety to prevent an accident from occurring while using ladders.
Stick to the following simple ladder safety rules to ensure that you and your fellow workers are never injured while using a ladder.
Four rules for safe use of ladders:
Pick the right ladder for the job you are going to do.

Make sure the ladder is in good condition.

Set up the ladder correctly.

Work safely on the ladder.
Pick the right ladder:
The ladder should be of the correct type and length. You will probably use an ordinary straight ladder for most purposes. An extension ladder may be required for high work. A step ladder is used when you need a free-standing ladder or one with a tool tray. Some situations may not require a ladder at all. Instead, you may need a scaffold. Never use a metal ladder around any electrical installation. Ladders are a pretty simple type of equipment. But don't allow that simplicity to get in the way of following safe procedures.
Ladder inspection is a must so you don't end up in the dust!! 
Download flyer: STOTW_440_Using a Ladder Safely.pdf (377.67 kb)
Download Spanish flyer: STOTW_440_Using a Ladder Safely_esp.pdf (378.75 kb)