The Right Ladder for the Job
Each year in the U.S, more than twenty thousand people are rushed to the emergency room due to ladder related falls and accidents. Ladder accidents and falls can result in severe injury and in some cases even death. The proper precautions must always be taken.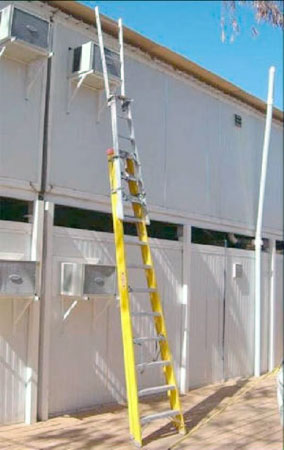 Choosing the ladder:
When choosing a ladder, first check the weight limit.

Is it the correct type and style of ladder for the job?

Is it made of the correct material? NO Aluminum ladders in service near live electrical circuits! 
Is it of a correct load rating to support all expected loads, including the user's clothed weight PLUS the weight of all gear, tooling, materials, PLUS an estimate of the magnitude & direction of any load that may be applied to the ladder.

Is the ladder length sufficient to ensure that the worker does not have to overreach, or stand above the highest allowed rung/step?

Is the ladder long enough to project three (but not more than four) rungs beyond the top supporting surface (e.g., straight or extension ladder)?

Has the ladder been inspected, maintained, and repaired if necessary?

Has a straight/extension ladder been set-up at the prescribed 1:4 slope; or, has a stepladder been positioned on all 4-feet, on a firm level surface, and with both spreaders fully opened & locked?

Can the ladder be used in specific accordance with the manufacturer's guidelines and generally recognized industry standard practices?

Ladder inspection is a must…so you don't end up in the dust!! 
Download flyer: STOTW_426_The RightLadderfortheJob.pdf (329.93 kb)
Download Spanish flyer: STOTW_426_The RightLadderfortheJob_esp.pdf (330.09 kb)