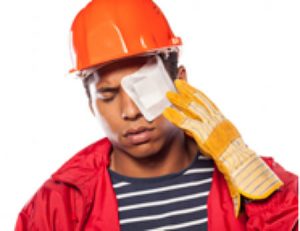 Every day an estimated 1,000 eye injuries occur in American workplaces. No matter where we work, flying particles, dusts, splashes, or flying objects are apt to expose us to potential eye injury. Fortunately, we can protect against these hazards by using the appropriate protective eyewear for our jobs.
In just the blink of an eye, an incident can injure or even blind a worker who is not wearing proper protective eyewear.
OSHA Criteria for Eye Protection:
All eye protection must be in compliance with the American National Standards Institute ANSI Z87.1. All eyewear worn as PPE must at the very least:
Provide appropriate protection;
Have a safe design suited for the work that is going to be carried out;
Be as comfortable as possible without compromising safety standards;
Fit snugly but not impede the movements of the wearer;
Be durable;
Be easy to clean and able to withstand disinfecting;
Only be marked with the manufacturer's identification; and
Used in conjunction with proper training.
Employees must be made aware of what type of work situations require protective eye and face wear, as well as what type of eye PPE is appropriate for each job.
EYES ARE PRICELESS…EYE PROTECION IS CHEAP!!
Download flyer: STOTW_652_Protect your Eyesight

Download Spanish flyer: STOTW_652_Protect your Eyesight_esp