Power Tool Safety
It's easy to forget the potential dangers of power tools because they are usually small, portable, and commonly found around the home or shop. Many times they're not treated with enough respect and they are frequently left lying around in unsafe places.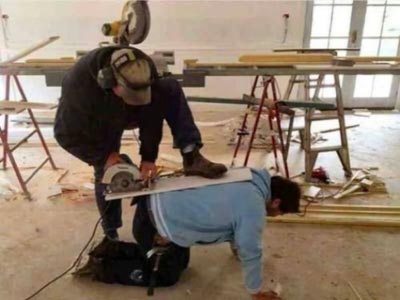 When using the tool:
Do not use electric-powered tools in damp or wet locations.

Keep guards in place, in working order, and properly adjusted. Safety guards must never be removedwhen the tool is being used.

Avoid accidental starting. Do not hold a finger on the switch button while carrying a plugged-in tool.

Safety switches must be kept in working order and must not be modified. If you feel it necessary to modify a safety switch for a job you're doing, use another tool.

Work areas should have adequate lighting and be free of clutter.

Observers should remain a safe distance away from the work area.

Be sure to keep good footing and maintain good balance.

Do not wear loose clothing, ties, or jewelry when operating tools.

Wear appropriate gloves and footwear while using power tools.
The Power is in Your Hands -­‐ Use It Safely!!
Download flyer: STOTW_19_Power_Tool_Safety.pdf (100.48 kb)