Spill Prevention and Response
Spills in the workplace cause hazards from slips and falls, exposure to the spilled material, and accidental release into the environment. Know the proper storage, handling, use, and spill response for the materials in your workplace.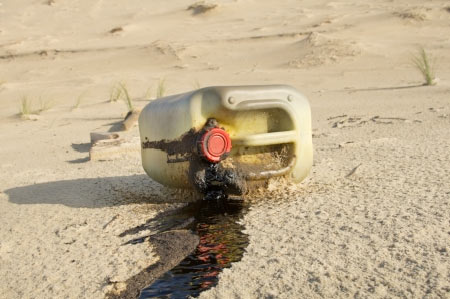 Prevention:
Inspect containers regularly for leaks, corrosion, and worn seals.

Handle containers with care, removing only as much of their contents as you need at a time. Close containers after using them.

Find out how to dispose of chemicals you no longer need.
Getting Ready:
Yes, unfortunately spills do happen, and there are certain preparations you should make:
Be familiar with your company's emergency response plan, evacuation routes for your area and your assigned role in a spill situation.

Make sure that the phone number of the emergency coordinator to whom you must report a spill is clearly posted.

Check labels and SDSs of chemicals you use.

You should know the potential hazards fire, explosion, reactivity, and toxicity that 

might be present in a spill.
 Containing the Spill:
The first step is to try to stop the leak or spill by securing a valve, closing a pump, plugging a hole in a leaking container or shifting a container to stop the flow. A barrel may be placed under the leak or the leaking container may be placed in a larger container or a bag.
A spill…a slip…a hospital trip!! 
Download flyer: STOTW_347_SpillPreventionandResponse.pdf (332.48 kb)
Download Spanish flyer: STOTW_347_SpillPreventionandResponse_esp.pdf (343.77 kb)