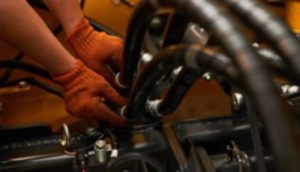 Leaks from high-pressure hydraulic lines are not just messy, they are dangerous. Leaks create slip and fall hazards, fire danger, and they contaminate the environment. Leaks can cause skin burns and, under high pressure, can penetrate the skin. The most common causes of leaking hoses are abrasions and improper assembly. If you work with hydraulic hoses, you should become skilled at anticipating problems, preventing them, and fixing them.
Recognized Hazards from High Pressure Lines:
Injection Injuries;
Dangerous properties of fluid (toxic);
Contact with hot fluid; and
Other material movement (explosion, whipping hose, etc.).
Preventing Problems:
Prevent abrasion by using hoses of the correct length and diameter.
Run the hose in the manner specified by the manufacturer, making sure it is supported and restrained by all provided hangars and/or brackets.
If chaffing guards were originally installed but are now missing, they must be replaced.
Do not ignore a damaged outer jacket. This allows moisture to attack the exposed hose reinforcement, leading to rust. Corrosion could lead to hose failure.
MAKE IT YOUR MISSION…TO KNOW HOW TO WORK IN SAFE CONDITIONS!!
Download flyer: STOTW_822_Hydraulic Hoses and Leakage

Download Spanish flyer: STOTW_822_Hydraulic Hoses and Leakage_esp