Hot Work Hazards
Welding is a routine job on many worksites. However, this common task has hazards that can result in serious injury and property damage. Bystanders as well as workers involved directly with welding can be affected.
Experts estimate that 6% of all fires on industrial properties are caused by welding or cutting. The main cause is the sparks or hot slag welding necessarily produces.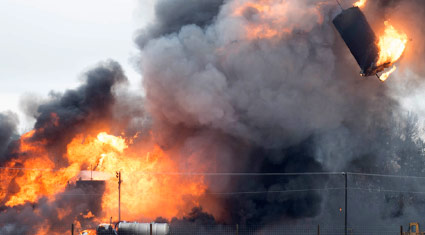 Questions to consider before beginning hot work:
Does everyone understand the scope of the work?

Have all the affected employees been notified?
Have security, emergency response personnel, and affected workers in the area been notified?

Has the permit been filled out?

Has the area been inspected before hot work is to start?

Are all flammables/combustibles removed from the area?

Has the area been evaluated to ensure that no flammable vapors are present?

Is a fire extinguisher available?

Are immovable fire hazards covered with a tarp or other non-combustible covering?

Have employees been told to immediately stop hot work if conditions change, odors become present, etc. until the area is re-inspected?
You can protect yourself from the physical hazards of welding. Follow company policies for using PPE to prevent injury and follow them consistently. Correct any situation which poses a fire or electrical shock hazard.
If you have a safety concern about welding hazards, don't let it become an accident – report it to your supervisor.
"Don't Get 'Burned'… Practice Welding Safety!" 
Download flyer: STOTW_323_HotWorkHazards.pdf (282.26 kb)
Download Spanish flyer: STOTW_323_HotWorkHazards_esp.pdf (282.51 kb)