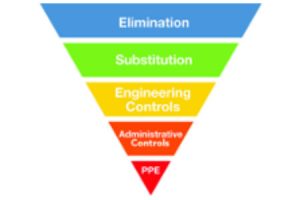 There are multiple safeguards to control any one hazard. Each level of these safeguards serves to protect employees. Some safeguards or controls are more effective than others.
The Hierarchy of Hazard Control seeks to protect workers by ranking the ways in which hazards can be controlled, providing employers with a framework for reducing risk to employees.
The hierarchy of controls outlines the controls used to mitigate a hazard from most effective to least effective.
The Hierarchy Contains Five Items:
Elimination;
Substitution;
Engineering controls;
Administrative controls; and
Personal protective equipment.
The Hierarchy of Hazard Control gives employers and safety professionals a tool to effectively tackle their workplace hazards.
Prioritizing control methods does not just make for a safer workplace; it also reduces costs and minimizes waste.
So, the next time you need to deal with a hazard, start by asking yourself "Can we do anything to eliminate the hazard?" and, if not, start working your way down the list.
BEFORE YOU DO IT…TAKE TIME TO THINK THROUGH IT!!
Download flyer: STOTW_737_Hierarchy of Controls

Download Spanish flyer: STOTW_737_Hierarchy of Controls_esp