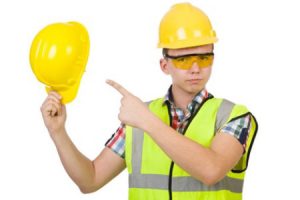 Hard hats are commonly used in many types of workplaces to protect employees from head trauma caused by falling objects, striking the head against an object, or electrical hazards.
Hard-hats use an internal suspension structure that absorbs the shock from objects coming into contact with your head.
Even in instances where the hat is damaged by an object, the shock-absorption still reduces the collision. However, as great as hard hats are, they need consistent upkeep in order to provide quality hazard-prevention.
Hard Hat Warnings and Precautions:
Never alter or modify the hard hat shell or suspension. This can drastically reduce the amount of protection provided. Drilling holes in the hard hat shell for ventilation purposes must be prohibited at all times.
Always avoid contact of the hard hat with electrical wires.
Never use a suspension that is not intended for use with a particular shell or one that is made by a different manufacturer.
Never carry or wear anything inside of your hard hat between the suspension and the shell. A clearance must be maintained between the hard hat shell and the wearer's head for the protection system to work properly.
FALLING OBJECTS CAN CAUSE DEATH…BE SMART AND PROTECT YOUR HEAD!!
Download flyer:  STOTW_842_Hard Hats

Download Spanish flyer: STOTW_842_Hard Hats_esp