Each year in the U.S. over 16 million people suffer hand injuries. Over 250,000 of those are serious and disabling.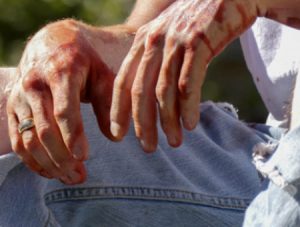 Typical injuries include:
Puncture wounds;
Lacerations;
Broken fingers;
Contusions;
Thermal Burns; and
Chemical Burns.
These injuries occur when:
Cutting or using a sharp tool;
Using hand tools;
Reaching into moving parts;
Working with chemicals; or
Touching something hazardous (electrical or thermal).
So how can we reduce hand injuries?
A recent study found that wearing gloves reduced the relative risk of injury by 60 percent.
The study also showed that workers reported that they had worn gloves only 27 percent of the work time and only 19 percent reported wearing gloves at the time of the injury.
Gloves are only effective when you wear them.
KEEP A GRIP ON LIFE…PROTECT YOUR HANDS!!
Download flyer: STOTW_634_Hand Injuries

Download Spanish flyer: STOTW_634_Hand Injuries_esp