Foot Protection Safety
Foot protection means guarding your toes, ankles, and feet from injury. Believe it or not, your feet have 26 bones for support and 38 joints for movement — in each foot.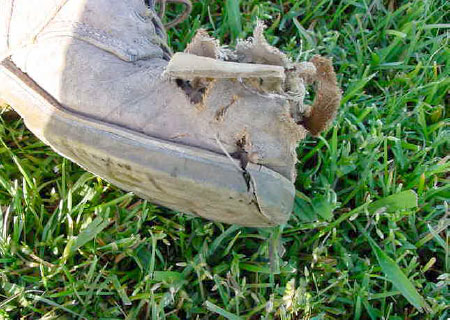 Must meet; ASTM F-2412-2005, "Standard Test Methods for Foot Protection," and ASTM F- 2413-2005, "Standard Specification for Performance Requirements for Protective Footwear,"
Foot injuries on the job include:
Broken bones caused by heavy falling or rolling objects;

Bruises and stubbed toes caused by bumps;

Puncture wounds from sharp objects;

Sprains from slips, trips, and falls; and

Burns from hot or hazardous substances.
Footwear care:
Apply a protective coating to make footwear water-resistant.

Inspect footwear regularly for damage.

Repair or replace worn or defective footwear.
Caring for your feet:
Feet are subject to a great variety of skin and toenail disorders. Workers can avoid many of them by following simple rules of foot care:
Wash feet daily with soap, rinse thoroughly and dry, especially between the toes.

Trim toenails straight across and not too short. Do not cut into the corners.

Wear clean socks or stockings, and change them daily.

Keep safety in mind…It will save your behind!! 
Download flyer: STOTW_424_FootProtectionSafety.pdf (468.64 kb)
Download Spanish flyer: STOTW_424_FootProtectionSafety_esp.pdf (468.94 kb)