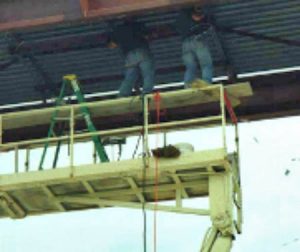 Falls are the second leading cause of occupational fatalities and disabling injuries in the United States. Each year, over 500 workers die in fall-related accidents and over 300,000 workers suffer a disabling injury.
According to the National Institute of Occupational Safety and Health (NIOSH), most of these fatalities and disabling injuries are the result of falls from elevations of six feet or less.
Where a fall hazard exists, there are two acceptable options; one, eliminate the hazard, or, two, provide protection against it.
Fall Protection "DOs":
Pick an anchorage point that will support 5000 lbs. per worker (strong enough to support a pickup truck).
Fall arrest systems should be rigged so employees can't free fall more than 6 feet (or contact any lower level).
Tie off above your head. A six-foot person who ties off at the feet could free-fall as much as 12 feet.
Place your anchorage directly above/behind your work area to avoid potential swing fall hazards.
Use the shortest lanyard possible.
The shorter the tie-off, the shorter the fall.
Have anchorage points selected by a competent person.
A DRASTIC FALL COULD END IT ALL!!
Download flyer:  STOTW_721_Fall Prevention and Protection

Download Spanish flyer: STOTW_721_Fall Prevention and Protection_esp