Workzone Traffic Safety
Employees being struck by vehicles or mobile equipment on a construction job site leads to many work zone injuries and fatalities. Work zones are required to have traffic controls consisting in signs, cones, barrels and barriers. Drivers, employees on foot, and pedestrians must be able to see and understand the proper routes. Construction project managers should determine traffic control plans within construction worksites.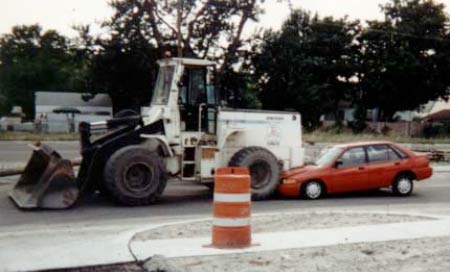 Safe work practices:
Follow all site rules and signs.

Watch your speed and stay in your lane.

Be aware of other mobile equipment, site visitors, equipment, and people on foot.

Check your equipment before use (pre-shift inspection).

Check your brakes each time you approach a steep grade or elevated dump.

Never move or change direction without using a warning signal or flagger.

Report any unsafe roadway conditions immediately.
Worker safety orientation for work zones includes, but is not limited to:
An identification of specific job-site hazards and an explanation of the safeguards to take;

Information on the limitations and proper uses of traffic control devices and other protection — this includes the details of both the external & internal traffic control plan in place; and

A briefing on the emergency action plan for the site.
Once all workers have the opportunity to learn the use and limitations of traffic control devices, personal protective equipment, tools, etc., then good decisions are made that positively affects the safety and health of everyone on the job-site.
Above all, keep your brain turned on and stay alert – don't get hurt!! 
Download flyer: STOTW_449_Workzone Traffic Safety.pdf (335.00 kb)
Download Spanish flyer: STOTW_449_Workzone_Traffic_Safety_esp.pdf (334.37 kb)