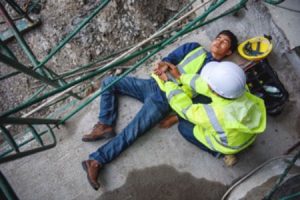 Heat stress is a buildup of body heat generated either internally by muscle use or externally by the environment. Heat exhaustion and heat stroke result when the body is overwhelmed by heat. As the heat increases, body temperature and the heart rate rise painlessly.
Workers should avoid exposure to extreme heat, sun exposure, and high humidity when possible.
Recommendations for Workers:
When these exposures cannot be avoided, workers should take the following steps to prevent heat stress:
Wear light-colored, loose-fitting, breathable clothing such as cotton; o Avoid non-breathing synthetic clothing.;
Gradually build up to heavy work;
Schedule heavy work during the coolest parts of day;
Take more breaks in extreme heat and humidity;

Take breaks in the shade or a cool area when possible;

Drink water frequently. Drink enough water that you never become thirsty;
Avoid drinks with caffeine, alcohol, and large amounts of sugar;
Be aware that protective clothing or personal protective equipment may increase the risk of heat stress; and
Monitor your physical condition and that of your coworkers.
GET OFF YOUR FEET IN THE HEAT…DRINK WATER AND TAKE A SEAT!!
Download flyer: STOTW_832_Safety in the Heat

Download Spanish flyer: STOTW_832_Safety in the Heat_esp