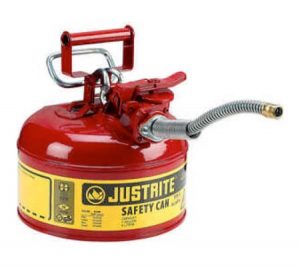 OSHA defines a 'safety can' as an approved container holding 5 gallons of gas or less with a spring-closing lid and spout cover, a means to relieve internal pressure, and a flash-arresting screen.
OSHA defines 'approved' as a gas can that has been listed or approved by a nationally recognized testing lab such as Factory Mutual Engineering Corp (FM), Underwriters Laboratories, Inc. (UL), or federal agencies such as the Bureau of Mines or U.S. Coast Guard. The most common safety can is the short and round red metal can with yellow labeling.
Color Coded Containers:
When working around several different types of fuels and other fluids, it is important to keep them contained and stored so that you will always know which chemicals are in which fuel storage container.
Color coding helps immensely.
Gasoline is stored in red containers;
Diesel is stored in yellow containers;
Kerosene is stored in blue containers; and
Oil combustibles are stored in green containers.
ONLY FOOLS BREAK SAFETY RULES!!!
Download flyer: STOTW_624_Safety Cans

Download Spanish flyer: STOTW_624_Safety Cans_esp