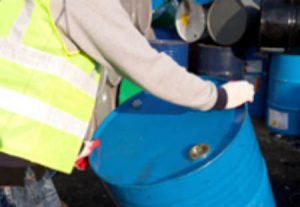 In the typical workplace, drums are used to store material, to ship it, to dispense it for use, and to store wastes. All these drums must be moved from time to time. Like most things, there's a right way to move a drum and several wrong ways to do it.
With the average 55-gallon drum weighing between 400-600 lbs., manually transporting, decanting, or otherwise handling drums is not only physically demanding, but a potentially dangerous task for any worker.
Before Moving a Drum:
By taking a few precautions before you attempt to move a drum, you can help prevent serious and painful injuries. Before you move a drum, put on a pair of thick gloves. The gloves will help protect your hands.
Follow this preliminary checklist:
Check to see how much room there is to move the drum.
Plan your route in advance. Don't wait until the drum is in motion.
Check the route for anything that might cause you or your equipment to trip or slip.
Check the drum to make sure it isn't warped. This could cause the drum to slip.
Check the drum for burrs that could cause a laceration.
Check the drum for liquids that could cause you to lose your grip.
Check the bung to make sure it is tight enough to prevent leaks.
KEEP SAFETY IN MIND…IT WILL SAVE YOUR BEHIND!!
Download flyer:  STOTW_718_Safe Drum Handling - Preventing Injuries

Download Spanish flyer: STOTW_718_Safe Drum Handling - Preventing Injuries_esp