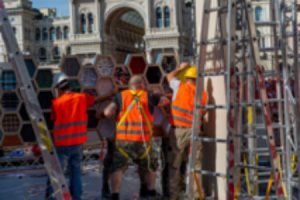 High-visibility (or hi-vis) apparel is a familiar sight, so it's easy to take for granted. But wearing the right type can save your life.
Consider this: according to OSHA, there is one work zone fatality every eight hours and one work zone injury every nine minutes. And who is most at risk? Unsurprisingly, it's those working in and around vehicles and traffic.
When Is High-visibility PPE Necessary?
Hi-vis safety apparel is essential for workers in low light and poor visibility and those who work around moving vehicles like cars, trucks, forklifts, and backhoes.
American National Standards Institute (ANSI) standard 107 mandates 360-degree visibility to ensure the worker can be seen from all sides.
There are three key classes of hi-visibility safety apparel:
Class 1 provides low levels of coverage with good visibility.
Class 2 provides moderate body coverage and superior visibility.
Class 3 provides the most body coverage and offers visibility in poor lighting conditions and at great distances.
The type of apparel required (classified as O, R, or P) will vary depending on the task and worksite.
These are designated as off-road (type O), roadway and temporary traffic control (type R), or public safety activities (type P).
MAKE SAFETY A REALITY…DON'T BE A FATALITY!!
Download flyer: STOTW_717_PPE-Hi Visibility Apparel

Download Spanish flyer:  STOTW_717_PPE-Hi Visibility Apparel_esp