PPE: Wet Concrete Safety
Wet concrete that is thoroughly and quickly washed off the skin will cause little irritation. But continuous contact between skin and wet concrete allows alkaline compounds to burn the skin. These exposures can lead to irritant or even contact dermatitis conditions such as stinging pain, itching, blisters, scabs, dead skin and swelling.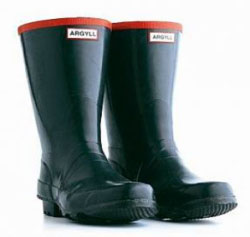 Precautions to Minimize the Risk of Wet Concrete:
Personal Protection
To protect skin from cement and cement mixtures, workers should wear:
Coveralls with long sleeves and full-length trousers;

Waterproof boots high enough to prevent concrete from flowing in when standing in fresh concrete;

Alkali-resistant gloves;

Safety glasses; and

Pull sleeves down over gloves and tuck pants inside boots. Use duct tape at the top of boots to keep mortar and concrete out.
Work Practices
Use ready-mixed concrete instead of mixing on site when possible.

Use a dry board or waterproof kneepads to protect knee fabric from becoming soaked when kneeling on fresh concrete.

Remove jewelry such as rings and watches because wet cement can collect under them.

It Hurts To Be Unsafe! 
Download flyer: STOTW_42_WetConcreteSafety.pdf (90.21 kb)