Portable Grinder Safety
Portable grinding wheels are designed to operate at very high speeds. If a grinding wheel shatters while in use, the fragments can travel over 300 miles per hour. The potential for serious injury, material damage, and other losses from these shooting fragments is great. To ensure that grinding wheels are safely used in your workplace, know the hazards and how to control them.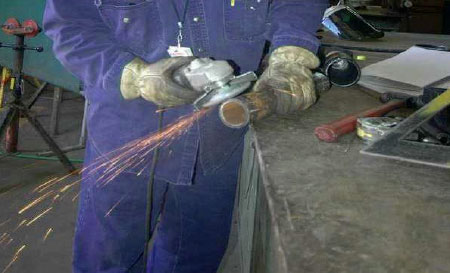 Safety precautions:
• Guards must be provided and adjusted properly to protect you. Replace damaged guards because if an abrasive wheel breaks while rotating, it can cause a serious injury. 
Before use, check the manufacturer's stated running speeds, or markings on the grinder and grinder wheel, for the maximum speed at which it can be used.

Follow the manufacturer's manual for the safe use of grinder wheel guards.

Clean and service grinders according to manufacturers' recommendations. Record all maintenance for grinders.

Ensure that a machine will not operate when unattended by checking the dead-man (constant pressure) switch.

Wear safety glasses or goggles, or a face shield (with safety glasses or goggles), to protect against flying particles. Gloves, aprons, metatarsal safety boots, and respiratory protection may be required, depending on the work.

Ensure the floor around the work area is clean.

Do not use wheels that are cracked or those that excessively vibrate.

Do not operate a grinder on wet floors.

Use both hands when holding the grinder.

Keep the power cord away from the grinding wheel and the material being ground.

Don't get caught with your guard off….it could be dis-arming!! 
Download flyer: STOTW_403_PortableGrinderSafety.pdf (348.72 kb)
Download Spanish flyer: STOTW_403_PortableGrinderSafety_esp.pdf (347.49 kb)