Laboratory – Chemical Spill Response
Many spills in the laboratory work area can be prevented. Development and implementation of good laboratory practices will significantly reduce the likelihood of spills.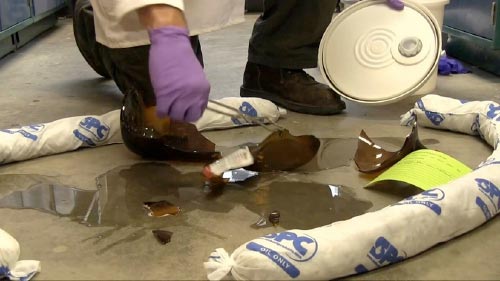 If handled properly, a spill may be nothing more than a nuisance. If handled improperly, a spill can seriously disrupt your activities and the work of your colleagues. At worst, a spill can cause bodily harm or property damage.
Procedures for Cleaning Up Simple Spills:
Before cleaning up a simple spill, be sure that you can do so safely. You must have the right personal protective equipment, including, at a minimum, appropriate eye protection, protective gloves, and a lab coat. Additional protective equipment may be required for spills that present special hazards (such as corrosive or reactive spills or spills that have a splash potential).
The following steps should be taken during spill cleanup:
Prevent the spread of dusts and vapors;

Neutralize acids and bases, if possible;

Control the spread of the liquid;

Absorb the liquid;

Collect and contain the cleanup residues;

Dispose of the wastes; and

Decontaminate the area and affected equipment.

If you are aware of it, take care of it!! 
Download flyer: STOTW_522_Laboratory – Chemical Spill Response.pdf (871.45 kb)
Download Spanish flyer: STOTW_522_Laboratory – Chemical Spill Response_esp.pdf (872.30 kb)