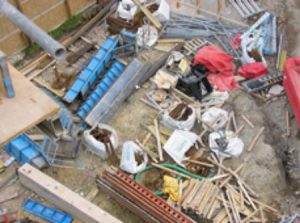 Construction sites can be busy and hectic with many workers and multiple contractors carrying on different yet simultaneous operations. What would happen if these groups never cleaned up after themselves? Trash and debris would pile up to become one large hazardous obstacle course.
It's every worker's responsibility to know and following the site safety plan, practice good housekeeping, follow recommended work practices, and promptly report and/or correct hazards at the worksite.
Safety Exposures Include:
Nails protruding from surfaces – Remove or bend down nails before discarding scrap material;
Combustible debris and materials – Dispose of them in the proper containers; and
Protruding objects – i.e. make sure exposed rebar is capped.
Good Housekeeping Habits Include:
Remembering it is part of your daily job duties;
Developing a routine cleaning schedule;
Reporting overcrowding or unsafe conditions;
Clearly marking physical hazards or areas of concern; and
Cleaning as you go.
Spending just 5 minutes picking up debris could prevent an injury that keeps a co-employee, or yourself, off work for weeks or even months.
A CLEANER PLACE IS A SAFER PLACE!!
Download flyer: STOTW_740_Housekeeping in the Construction Industry 

Download Spanish flyer: STOTW_740_Housekeeping in the Construction Industry_esp