The Hazard Communication Standard (HCS) is now aligned with the Globally Harmonized System of Classification and Labeling of Chemicals (GHS).
This update to the Hazard Communication Standard (HCS) provides a common and coherent approach to classifying chemicals and communicating hazard information on labels and safety data sheets.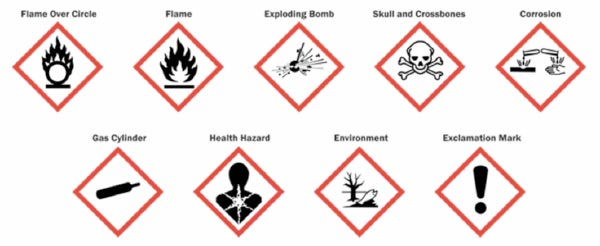 Major changes to the Hazard Communication Standard:
Hazard classification: Provides specific criteria for classification of health and physical hazards, as well as classification of mixtures.
Labels: Chemical manufacturers and importers are required to provide a label that includes a harmonized signal word, pictogram, and hazard statement for each hazard class and category. Precautionary statements must also be provided.
Safety Data Sheets: Now have a specified 16-section format.
Information and training: Employers have been required to train workers on the new label's elements and safety data sheets format to facilitate recognition and understanding.
Hazard Communication Standard programs should have been updated, written to reflect the changes in the work environment brought about by the new regulations. Written programs should include how the facility implemented the standard, contain a list of all chemicals, address non-routine tasks and discuss contractors' responsibilities.
YOUR RIGHT TO UNDERSTAND…IT'S ALL ABOUT SAFETY!!
Download flyer: STOTW_625_Hazard Communication

Download Spanish flyer: STOTW_625_Hazard Communication_esp