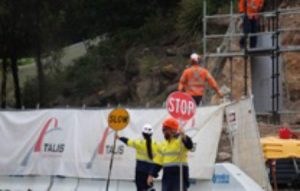 Flaggers keep motorists and road workers safe during temporary roadwork by following the safe work practices and training requirements from OSHA and the Manual of Uniform Traffic Control Devices.
In 2017, 132 workers died in roadway work zone crashes, according to WorkZoneSafety.org.
Control traffic in the roadwork zone by using STOP/SLOW paddles, lights, or red flags for emergencies. Use deliberate, easy to understand hand gestures and body postures so drivers can see you, follow your instructions, and maneuver safely through the area.
Flaggers should follow some "dos" and "don'ts" when working.
Do:
Pay attention to the surrounding conditions;
Have an escape route plan in case of an emergency; and
Stay in communication with other flaggers.
Don't:
Stand within a lane of open traffic;
Use hand signals that conflict with traffic signals;
React to aggressive drivers;
Stand in the shade around a sharp curve or over the crest of a hill;
Listen to music or use earphones; and
Turn your back to traffic.
BE ALERT! EXPECT THE UNEXPECTED!!
Download flyer:  STOTW_824_Flagger Safety

Download Spanish flyer: STOTW_824_Flagger Safety_esp