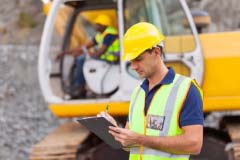 A blind spot is the area around a vehicle or any piece of equipment that is not readily visible or noticeable to the vehicle operator, either by a direct line-sight view or using any internal or even externally placed mirrors.
Issues with blind spots are most commonly found with equipment in use at industrial or construction locations.
Where are the Risks?
Equipment/vehicles in motion (backing or forward);
Turning radius of equipment/vehicles;
Placement or location (arc of the terrain, buildings, materials, etc.); and
Noise levels that can interfere with good communication during operations.
Preventative Measures to Take:
Always complete a pre-job risk assessment.
Ensure all mobile equipment has working backup alarms.
Establish specific areas for vehicle traffic and work traffic.
Require use of High-Visibility Vest/Clothing.
Require material handling signal personnel to direct movement in areas (workers in travel area, limited space, turning radius is tight).
Verify pedestrian traffic with equipment operators.
Establish mirrors at hazardous intersections and corners for early detection of potential collisions.
Equipment operator must always obey requirements of equipment and the signal person.
Workers must avoid walking through the areas where driver blind spots may exist.
ALWAYS STAY ALERT…SO YOU DON'T GET HURT!
Download flyer: STOTW_1038_Equipment Blind Spots

Download Spanish flyer: STOTW_1038_Equipment Blind Spots_esp