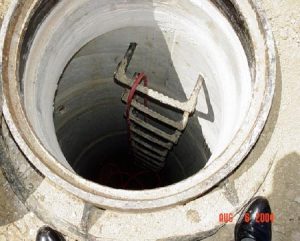 Confined spaces can present conditions that are immediately dangerous to workers if not properly identified, evaluated, tested, and controlled.
OSHA has developed a new construction standard for Confined Spaces (29 CFR 1926 Subpart AA)
Safe Entry Requirements:
The new Confined Spaces standard includes several requirements for safe entry.
Preparation: Before workers can enter a confined space, employers must provide pre-entry planning.
This includes:
Having a competent person evaluate the work site for the presence of confined spaces, including permit-required confined spaces;
Once the space is classified as a permit-required confined space, identifying the means of entry and exit, proper ventilation methods, and elimination or control of all potential hazards in the space;
Ensuring that the air in a confined space is tested, before workers enter, for oxygen levels, flammable and toxic substances, and stratified atmospheres;
If a permit is required for the space, removing or controlling hazards in the space and determining rescue procedures and necessary equipment; and
If the air in a space is not safe for workers, ventilating or using whatever controls or protections are necessary so that employees can safely work in the space.
Safety is a frame of mind…so concentrate on it…all the time!!
Download flyer: STOTW_551_Confined Spaces in Construction 

Download Spanish flyer: STOTW_551_Confined Spaces in Construction_esp