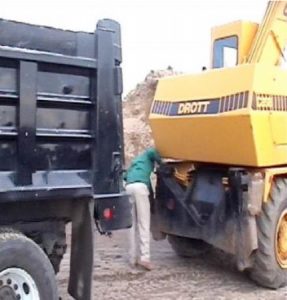 A blind spot is the area around a vehicle or piece of construction equipment that is not visible to the operators, either by direct line-of-sight or indirectly by use of internal or external mirrors.
Pre-job Risk Assessment – Consider These Points:
Consider the suitability of providing back-up alarms on all mobile equipment.
Whenever possible, plan the project to allow for drive-through operations that will limit the need for vehicles to back-up.
Reduce foot traffic in areas where mobile equipment is to be working.
Establish designated travel areas, ideally with
barricades or other means to set apart from work locations.
Protection:
High-Visibility Clothing;
Backup Alarms;
Protective Barriers;
Observer;
Communication; and
Awareness.
BE ALERT…EXPECT THE UNEXPECTED!!
Download flyer: STOTW_1002-BlindSpotsInMobileEquipment

Download Spanish flyer: STOTW_1002-BlindSpotsInMobileEquipment_esp