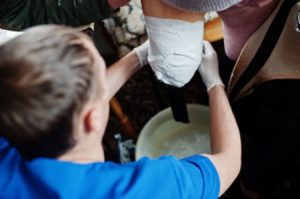 Amputations are some of the most serious and debilitating workplace injuries. Amputations occur most often when workers operate unguarded or inadequately safeguarded mechanical power presses, power press brakes, powered and non- powered conveyors, printing presses, roll-forming and roll-bending machines, food slicers, meat grinders, meat-cutting band saws, drill presses, and milling machines as well as shears, grinders, and slitters.
Amputations are seen across many industries, such as manufacturing, construction, warehousing, and more. Workers involved with any mechanicalmotion are potentially at risk for an amputation injury.
Tips to Help Workers Avoid Amputations:
Use guards as physical barriers from hazardous areas.
Don't bypass, remove, or tamper with machine guards.
Use devices to help prevent contact with machinery points of operation.
Devices can interrupt the normal cycle of the machine when the operator's hands are at the point of operation.
Use proper lock-out/tag-out procedures on all equipment.
Ensure employees are trained in the safe use of equipment.
Modify work practices as needed for safety.
Take the time to recognize, identify, manage, and control amputation hazards in your workplace. With heightened awareness and a few preventative measures, most amputations can be avoided.
MACHINES DON'T HAVE BRAINS…USE YOUR OWN!!
Download flyer:  STOTW_825_Amputations in the Workplace

Download Spanish flyer: STOTW_825_Amputations in the Workplace_esp