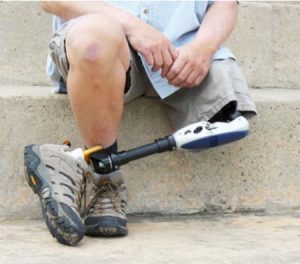 Amputations are some of the most serious and debilitating workplace injuries. They are widespread and involve a variety of work activities and equipment.
Amputations occur most often when workers operate unguarded or inadequately safeguarded machines.
Amputation Protection:
Machine guarding with the following equipment is the best way to control amputations caused by stationary machinery:
Guards provide physical barriers that prevent access to hazardous areas. They should be secure and strong, and workers should not be able to bypass, remove, or tamper with them. Guards should not obstruct the operator's view or prevent employees from working.
Devices help prevent contact with points of operation and may replace or supplement guards. Devices can interrupt the normal cycle of the machine when the operator's hands are at the point of operation, prevent the operator from reaching into the point of operation, or withdraw the operator's hands if they approach the point of operation when the machine cycles. They must allow safe lubrication and maintenance, and not create hazards or interfere with normal machine operation. In addition, they should be secure, tamper resistant, and durable.
ALWAYS KEEP YOUR 'GUARD' UP WHEN WORKING WITH POWERED EQUIPMENT!
Download flyer: STOTW_946-AmputationHazards

Download Spanish flyer: STOTW_946-AmputationHazards_esp