Accident Investigation
Accidents are unplanned and unexpected events that cause injury, property damage, and/or financial loss in the workplace. Incidents or "near misses" don't result in loss, but have the potential to do so.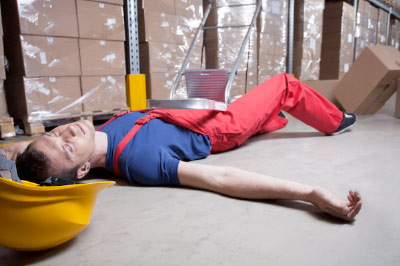 Accidents are the result of unsafe acts or unsafe conditions, or both. Whatever the reasons, we want to eliminate them to keep you safe, and you can help!
Excuses some people use:
That's the way I always do it;

I can take a shortcut because I'm experienced;

I was just trying to fix it;

I thought I knew how;

I was in a hurry;

Doing it safely takes too much time; or

I didn't know it was loaded.
Key roles to play in accident-investigation procedures:
Always report any accident or near miss immediately so we can review and make needed corrections.

Cooperate with all investigations of any accident in which you were involved, which you witnessed, or where your knowledge of the situation or procedure could be helpful.
Remember, when we investigate an accident, we're not looking for someone to blame. We're trying to find out what really happened and what to do to prevent the same thing from happening again. So, your cooperation can really make a difference, even a life-or-death difference to all of us.
Identifying Hazards:
A good accident investigation is aimed at discovering what happened, what caused it to happen, and why, and how to prevent future occurrences. The investigation tries to identify the hazards that led to the accident and any other related hazards that could lead to accidents in the future.
Don't learn safety…by accident!! 
Download flyer: STOTW_402_AccidentInvestigation.pdf (294.92 kb)
Download Spanish flying: STOTW_402_AccidentInvestigation_esp.pdf (294.34 kb)